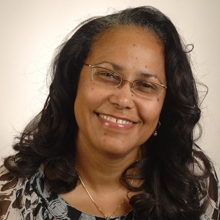 Cheryl Dejoie-LaCabe has been working in the graphic design, print and publication media field for 21 years. She received her fine arts degree from Xavier University and her master's in graphic design from Savannah College of Art & Design. 
Dejoie-LaCabe has taught art to New Orleans Public School students and was graphics coordinator at Xavier. At Xavier, she wore many hats; she was print shop manager; she taught graphic design; she was yearbook advisor and she was graphic designer for all in-house graphics.
Dejoie-LaCabe was one of the founding partners of REDDOT magazine, a visual arts magazine. In 2000, she became an art director at the Clarion Herald, the official newspaper of the Archdiocese of New Orleans. In 2002, the Catholic Press Association honored her with an award shared by the advertising department of the Herald for "The BEST Special Supplement with Advertising Emphasis." She is now working on redesigning the Clarion Herald.
Degrees
M.F.A., Savannah College of Art and Design; B.F.A., Xavier University of Louisiana
Classes Taught
Introduction to Layout & Design
Advanced Layout & Design
Areas of Expertise
Graphic Design