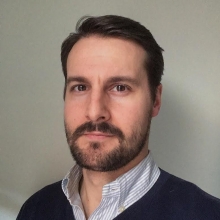 Dr. Álvaro Bootello is a Spain native and has developed his career in higher education in the fields of advertising, public relations and integrated marketing communications. After working with leading agencies and clients, he joined Madrid's largest private university, CEU San Pablo, where he has served both as a professor and at the top management level, as Academic Secretary at the Center for Study Abroad. Álvaro has received various scholarships and honors, including the Teaching Innovation Award in 2016 and the Silver Badge in 2015.
Bootello received his Ph.D. in Advertising and Mass Communication, focusing his research on the brand engagement of the sponsors of the Super Bowl. He has taught at Boston University and has a wide experience organizing programs at both undergraduate and graduate levels. 
At Loyola University New Orleans, Álvaro is the Director of the Shawn M. Donnelley Center for Nonprofit Communications, the Director of Brand Lab, and is also Faculty Adviser for the Loyola Ad Club, in association with Ad Club of New Orleans.
Dr. Bootello is digitally savvy, a regular sneaker wearer and, as a former professional track & field athlete, a devoted sports enthusiast. And he loves Bacon, also his dog's name.
 
Degrees
M.A. Advertising and Public Relations Ph.D. Advertising and Mass Communication
Classes Taught
Advertising
Brand Lab
Donnelley Center
Strategic Content Creation II 
Areas of Expertise
Advertising & Integrated Marketing Communications
Consumer Engagement
Sponsorship
Sports Marketing
Social Media & Analytics