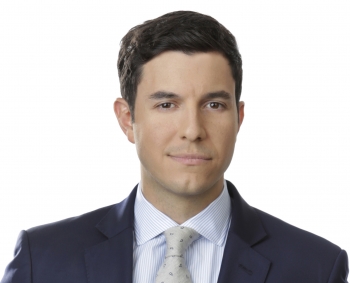 Tom Llamas '01, an Emmy award-winning journalist and anchor of ABC News "World News Tonight," is adding the weekend editions of "World News Tonight" to his schedule. Llamas recently was named Chief National Correspondent by ABC News, according to a memo from the news organization published by Deadline Hollywood.
Llamas, who joined ABC News in 2014 and reports for all ABC News programs and platforms, was previously an investigative reporter and anchor for WNBC in New York. He also served as a contributing correspondent at NBC News. He has reported on everything from the 2016 presidential campaign, the Boston Marathon bombings, Arizona wildfires, to the 2010 earthquake in Haiti. He has covered nine hurricanes, including Katrina, and in 2011 won an Emmy Award for his coverage of Hurricane Irene.
Llamas has been recognized with many prestigious awards and honors throughout his career, including Emmy awards for "Best Anchor" and "Best Hard News Story" in 2013. In 2012, he won two regional Edward R. Murrow Awards for feature and hard news reporting and was also part of the WNBC team that won the Murrow for breaking news coverage of Hurricane Sandy in 2014. In 2012, Llamas was honored with the prestigious El award by El Diario, the country's oldest and largest Spanish-language newspaper.
Prior to WNBC, Llamas was a reporter at WTVJ in Miami and a political campaign reporter for MSNBC, where he traveled to more than 40 states covering the presidential campaigns of Sen. John Kerry and the Rev. Al Sharpton and the vice presidential campaign of Sen. John Edwards.