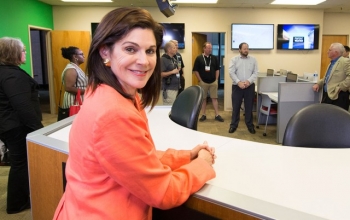 Sonya F. Duhé, Ph.D., director of the prize-winning School of Mass Communication at Loyola University New Orleans, is the new President-elect of the Association of Schools of Journalism and Mass Communication, ASJMC, for 2016-17. Duhé will become president in 2017-18.
ASJMC is a non-profit, educational organization, composed of some 190 journalism and mass communication programs from colleges mostly in the United States and Canada.
"I am honored to be elected president of the Association of Schools of Journalism and Mass Communication and am thrilled to work with the organization and its members to promote excellence in journalism and mass communication," said Duhé. She will also be serving a three-year term on the Accrediting Committee of the Accreditation Council on Education in Journalism and Mass Communications. 
Under her leadership as director of the School of Mass Communication at Loyola, she has pioneered curriculum changes, led the school to two national accreditations and a record-breaking year of success. 
In 2015-2016, students racked up an unprecedented 91 awards, including a national Pacemaker Award earned by the school's 93-year-old student newspaper, The Maroon. The award granted by the Collegiate Press Association is known among journalists as "the Pulitzer Prize of College Journalism." The Princeton Review has also ranked The Maroon as the 4th best newspaper in the country. 
Duhé has continued development of Loyola's Shawn M. Donnelley Center for Nonprofit Communications, introduced a "Brand Lab" for strategic communications students, and is raising funds for a $5 million digital laboratory that will serve as a media center on campus. The hub will be accessible to the Loyola community, all media, and residents and businesses of the Greater New Orleans area. 
Since 1917, ASJMC has been working in higher education to promote a public understanding of the journalism and mass communication industry in a democratic society; to foster, encourage and facilitate high and professional standards; and to support and participate in the accreditation process of journalism and mass communication units through the Accrediting Council on Education in Journalism and Mass Communication (ACEJMC). 
"Anytime our Loyola faculty are named to national positions, we showcase to the world the incredible dedication and talent we have here on campus," said Maria F. Calzada, dean of the College of Arts and Sciences at Loyola University New Orleans. "Sonya Duhé has led our School of Mass Communication to win some of the nation's top prizes and devised a curriculum and program that ensures our mass communication students are well-positioned and successful in their careers, starting the minute they graduate. The skills, ethics and professional experience that strategic communications and journalism students gain at Loyola will help them to stand apart in their fields throughout their lifetimes."