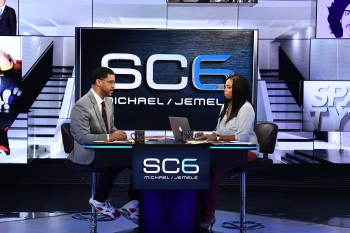 ESPN Sportscaster Michael Smith '01 co-hosts SC6 with Jemele Hill, who he recently worked with on ESPN2's His & Hers, a daily sports discussion program that premiered in 2014 following the success of Hill and Smith's podcast of the same name. They are the first African-American duo to host SportsCenter on a regular basis and their shows have launched a new conversational format for ESPN SportsCenter, discussing sports topics, news, culture and social issues. 
Prior to joining ESPN on a full-time basis in 2004, Smith covered the New England Patriots and the NFL from 2001 to 2004 as a reporter for the Boston Globe. He then joined ESPN as a senior writer for ESPN.com and an NFL Insider for SportsCenter and NFL Live. He also offered reporting and commentary on various ESPN and ESPN2 studio shows, as well as for ESPN Radio. Smith was an original correspondent for E:60, which launched in 2007. In 2009, Smith transitioned to anchoring and guest hosting such programs as Mike & Mike, First Take, SportsNation, Outside the Lines, NFL Live, and College Football Live. From 2011 to 2014 he hosted Numbers Never Lie every weekday on ESPN2.
Smith began his journalism career while a student at Loyola University New Orleans by serving as a sports reporter and copy editor for the New Orleans Times-Picayune.  He received a bachelor of science degree in mass communication in 2001.