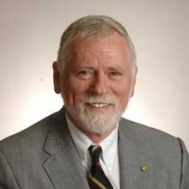 NEW ORLEANS (July 5, 2016) – Parkway Partners today announced that Dr. Bob Thomas will receive the organization's annual Green Spirit Award at its Feast With Leah gala on Oct. 9, as two legends and a legendary event join forces.
The Parkway Partners board selected Dr. Thomas for the distinction because of his dedication to the environmental education of multiple generations of New Orleanians as a professor at Loyola and UNO, president of Louisiana Master Naturalists, and the executive director of the Louisiana Nature and Science Center.  Through his undying commitment, we've come to value our priceless natural heritage.
"A born educator, Thomas, in the 1970s, was the first to educate the public about the trends of coastal loss, and the serious impact it would have in the future on Louisiana, the United States, and the world," said Ruthie Frierson, Honorary Chair of Feast 2016.
The Sunday jazz brunch gala will take place at historic Dooky Chase Restaurant from 11:30 a.m. to 2 p.m., a change of venue that led Parkway Partners to dub the event "Feast With Leah" instead of the traditional Feast With the Stars. The event is the organization's annual fund-raising gala held every October and sponsored by local businesses, corporations and friends of Parkway Partners.
"Parkway Partners works closely with the city, but we receive no funding from its budget," said founder Flo Schornstein. "Just as we rely on volunteers like Dr. Thomas to support our work, we depend on our annual Feast to help finance our efforts."
For the past 32 years, this annual gala has attracted hundreds who enjoy live jazz while dining on outstanding cuisine and specialty drinks. It also features a silent auction and raffle. Tickets to the Jazz Brunch Gala are available at www.parkwaypartnersnola.org or by calling 504-620-2224.
About Parkway Partners
A partnership between the community and the city for 34 years, Parkway Partners works to improve and expand green spaces in New Orleans. With no government funding, the organization and active members have helped support the Department of Parks and Parkways in restoring the city's urban canopy while educating and empowering citizens. Ongoing campaigns include ReLeaf New Orleans, Adopt-A-Neutral-Ground, Save Our Trees, Community and Schoolyard Gardens, Second Saturday Program. For more information, visit http://www.parkwaypartnersnola.org/.
1137 Baronne St., New Orleans, La. 70113; 504-620-2224