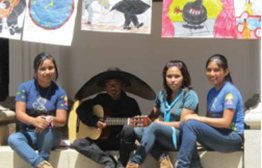 In Luis' Footsteps: A museum memorializing a "disappeared" Guatemalan author and activist receives translation assistance from Loyola students
Nathan Henne, Ph.D., associate professor of languages and cultures, has been studying the life and work of Guatemalan author and activist Luis de Lión for eight years. In 2012, the University of Arizona Press published for the first time in English de Lión's most important work, Time Commences in Xibalbá, which Henne translated and introduced.
Henne's research uses de Lión as a prism to examine broader themes of ethnicity, identity, imperialism, and violence. For the past two years, Henne's students have joined the professor in this exploration, which has taken them to the sites of mass graves and museums, and to an understanding of the values for which Luis de Lión lived and died.
Henne's students Taylor Adams and Molly Wagner took lengthy trips through Guatemala during their summer breaks to lay the groundwork for their research projects.
"A lot of de Lión's fiction is concerned with how difficult it is to build a nation state around a nation's  - supposedly singular - identity, but still leave room for real difference among the many indigenous groups," Henne said, "especially when that country went through an extended colonial period where racial difference was the most significant ordering principle. That's why it was so important for Molly and Taylor to travel throughout Guatemala and better understand the legacy of the colonial period."
Wagner, who plans to further her studies in international human rights, accompanied a team of forensic scientists who exhumed mass graves from the period of state-sponsored violence in Guatemala that spanned 1954-1996. Scientists and human rights workers were trying to identify bodies of those "disappeared" by the government during that time - de Lión among them. Adams worked with the Proyecto Luis de Lión, founded and operated by de Lión's daughter Mayari, to create a website for the organization, which includes a museum, library, and arts education center. The website builds awareness about the organization and provides an important avenue through which its administrators can raise money and solicit donated musical instruments.
But perhaps the most important work Adams and Wagner did was translate elements from the Casa Museo Luis de Lión into English. The 15-year-old museum uses the life of de Lión as a starting point to introduce the historical context in which the indigenous author "disappeared," a period of deep racism toward the indigenous and a general intolerance toward creativity, intelligence, and union activism, such that de Lión took part in. Now, thanks to Loyola students' translations, visitors from other countries who speak English but not Spanish can fully realize the complicity of the United States in the atrocities in Guatemala's recent history that claimed the lives of hundreds of thousands of its indigenous inhabitants, such as the author at the core of its existence.