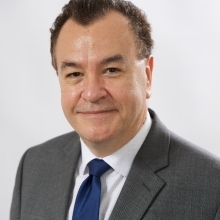 Uriel Quesada (San José, Costa Rica) founded the Center for Latin American and Caribbean Studies at Loyola University in 2009. He became the Associate Dean of the College of Arts and Sciences in 2014, and was appointed interim Dean in 2018. His areas of interest are Central American and Caribbean literatures and cultural studies, U.S. Latino studies, Queer studies and Latin American Popular Culture studies. He has written about Central American detective fiction, Latin American masculinities and travel writing.
Dr. Quesada has published thirteen books, including El atardecer de los niños (short stories, Editorial Costa Rica Award and Costa Rica National Book Award 1990), Lejos, tan lejos (short stories, Áncora Award in Literature, 2005), El gato de sí mismo (novel, Costa Rica National Book Award 2005), Queer Brown Voices (oral histories, Ruth Benedict Award 2016) and La invención y el olvido (short stories, Costa Rica National Book Award 2018).
Degrees
B.A., Universidad de Costa Rica Licenciatura, Universidad de Costa Rica M.A., New Mexico State University Ph.D., Tulane University
Classes Taught
Dr. Quesada has offered courses on Latin American crime literature, Central American postwar literature, Latin American urban chronicle, Border studies, and Latin American Life Writing.