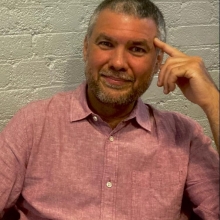 Dr. Tablante holds a Ph.D. in Communications and Information Sciences from Université Sorbonne-Paris Nord. He specializes in World Languages acquisition, Social and Media Representations, and Cultural Industries. He also holds a M.A. in English, focusing on Professional Writing, from the University of New Orleans. His recent research interests include the Hybridization of Culture and Life Narratives. He participated in seminars about digitization of collective memory at French Institut National de l'Audiovisuel (INA). He worked as a Teaching and Research Assistant for the Université Sorbonne-Paris Nord's Communication and Information Sciences program, where he assisted in ongoing research projects in the Creative and Cultural Industries. He also accomplished teaching duties and served as a liaison with study abroad students in France. At the Andrés Bello Catholic University in Caracas, Venezuela, Dr. Tablante taught the class Theories of Image and the postgraduate seminar on Social and Media Representations. In addition, he formed part of ABCU's Communication Research Center, where he conducted research on the Representation of Poverty in the Venezuelan press during 2005, a year of political crisis during Hugo Chávez presidency. For this research, he received ABCU's research award in 2011. Dr. Tablante is a founding member of the French Venezuelan Association of Social Sciences and Humanities. He is a published fiction writer and an active journalist.
Recent Publications
Tablante, Leopoldo. El dólar de la salsa. Del barrio latino a la industria multinacional de la música popular. Madrid: Iberoamericana-Vervuert, 2014.
Tablante, Leopoldo. Los sabores de la salsa. De la rumba brava a la fiesta mansa; de Héctor Lavoe a Jennifer López. Caracas: Ediciones del Museo Jacobo Borges, 2005.
Tablante, Leopoldo. "La pobreza como objeto mediático." Cahiers de l'Amérique Latine, Vol. 53, No.3, pp. 117-146, 2006.
Bosc-Bierne De Oteyza, Caroline and Leopoldo Tablante. "El documento audiovisual en el debate político de la Venezuela actual." L'Ordinaire Latinoaméricain, N. 202, pp. 95-108, 2005.
Tablante, Leopoldo. Mandamadre. New York: Sudaquia, 2017.
Degrees
Ph.D. and M.A., Universite Sorbonne-Paris Nord; M.A., University of New Orleans; B.A., Andres Bello Catholic University
Classes Taught
Beginning French
Intermediate French
Conversational French through Film and Literature
Cinéma francais et francophone 
Areas of Expertise
World Language acquisition, Cultural Industries and Record Industry, and Social and Media Representations.