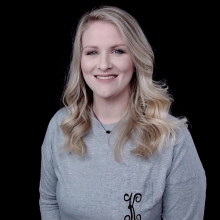 Kaitie Garland, M.A. SLED has 5 years of American Sign Language teaching experience. In addition to her classes taught at Loyola University New Orleans she also teaches full time in the secondary setting in Austin, Texas. 
Kaitie grew up in Denton, Texas and matriculated at Baylor University with a major in Deaf Education and American Sign Language Interpreting. Her post-graduate studies at Gallaudet University are in the Master of Arts in American Sign Language Education program where she critically researched curricular gaps in the currently available curricula programs in the study of American Sign Language. Kaitie is especially dedicated to providing publishers of ASL curriculum with washback to improve standards in ASL education. 
Degrees
M.A. SLED, Gallaudet University; B.A., Baylor University
Areas of Expertise
Language and literacy development in deaf children utilizing a bilingual-bicultural approach, American Sign Language: Linguistics, Media Production of Signed Language, Curriculum Development and Planning and Advocacy.