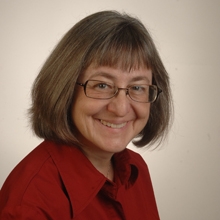 Eileen J. Doll received her Ph.D. in Comparative Literature from Purdue University in 1986, specializing in Spanish 20th-century literature and the 20th-century theater of Europe. She has published numerous articles on various contemporary dramatists of Spain, and early 20th-century playwrights, in the journals Estreno, Gestos, Anales de la Literatura Española Contemporánea, Hispania, Signa, La Ratonera, Crítica Hispánica, South Central Review, and Discurso Literario, as well as in collections of essays. Her publication of December 2013, Editorial Fundamentos, Madrid, is a book studying the use of immigrant characters in numerous Spanish plays from 1989 to 2011: Los inmigrantes en la escena española: buscando una nueva identidad española. Doll also published the book El papel del artista en la dramaturgia de Jerónimo López Mozo: juegos temporales e intermediales in 2008 (Iberoamericana Editorial Vervuert, Madrid and Frankfurt am Main), analyzing the use of history and visual arts in a specific dramatist of Spain. Her most recent articles include "Los inmigrantes africanos en tres piezas españolas: I. del Moral,  J. López Mozo y J. Moreno Arenas" and "El Teatro de la Muerte en la dramaturgia de López Mozo y Sanchis Sinisterra" (published in 2013, and 2012, respectively). She has been an invited speaker on topics from contemporary theatre of Spain, to specific playwrights, to the Spanish culture in New Orleans, to the importance of the novel Don Quijote today, both locally and at the national and international levels. In addition, she has given scholarly papers at various regional and international conferences. Currently, she is working on projects in contemporary Spanish theatre dealing with immigration and the Other, voyeurism, and animal images.
Eileen Doll teaches all areas of Peninsular Spanish Literature and Culture, as well as introductory, intermediate, and advanced Spanish language classes at Loyola University New Orleans. In May 2008, she received the Excellence in Teaching Award from the College of Humanities and Natural Sciences.
In addition to her research and teaching interests, Dr. Doll is an advisor for Spanish majors, and the faculty advisor for the Loyola chapter of the national Spanish Honor Society, Sigma Delta Pi.
Recent Publications
A Rude Trilogy (begging your pardon): Three plays by José Moreno Arenas. Trilogía grosera (con perdón): Tres piezas de José Moreno Arenas: The Heist / El atraco; The Parking Space / El aparcamiento; The Beach / La playa. Introduction and translation by Eileen J. Doll. Irvine, CA: Ediciones de GESTOS. Colección Textos Teatrales, 2016. 196 pp.
Doll, Eileen J. Los inmigrantes en la escena española contemporánea: buscando una nueva identidad española. Madrid: Editorial Fundamentos, 2013. 292 pp
Doll, Eileen J. "Las relaciones personales en la edad mediática: tres piezas de Juana Escabias," Book chapter in monograph on Spanish dramatist Juana Escabias: Juana Escabias: Estudios sobre su teatro. Una investigación transoceánica, ed. Rossana Fialdini Zambrano, Sevilla, Spain: Benilde Editorial, 2018. pp. 77-99.
Doll, Eileen J. "El teatro de conciencia: la inmigración en las tablas (o la calle)," introduction to La inmigración en el teatro de Jerónimo López Mozo y José Moreno Arenas. Actas del III Seminario Internacional de Estudios Teatrales (1/2 Dic 2016). Coordinación de Eileen J. Doll. Granada, Spain: Editorial Alhulia/Karma Teatro, 2017, pp. 15-27.
Doll, Eileen J. "El trauma del Otro: Once voces contra la barbarie del 11-M." Bulletin of Spanish Studies 92.1 (February 2015): 255-267. http://dx.doi.org/10.1080/14753820.2014.943028
Degrees
Ph.D., Purdue University, 1986; M.A., Purdue University, 1980; B.A., Purdue University, 1976
Classes Taught
First Year Spanish I & II
Second Year Spanish I & II
Survey of Spanish Literature I & II
Culture and Civ of Spain
Contemporary Spain
Golden Age Spanish Literature
Immigration
Honors Seminars
 Click here to hear Dr. Doll talk about her background and teaching: https://vimeo.com/121371172
Areas of Expertise
Spanish 20th & 21st-century literature & culture, 20th-century theater of Europe (Spain, Ireland, Russia in particular)