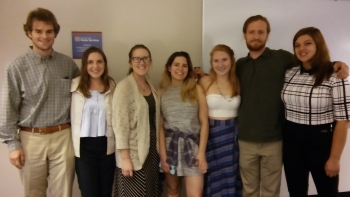 The graduating seniors in Latin American Studies and Spanish presented the results of their Capstone research on 25 April, 2017. The topics varied greatly, but all did their best--¡Felicitaciones!
"Re-appropriating Women's Bodies: The Orquestas Femeninas in the Cali World of Salsa"
Jacqui Etheart-LAS (Dr. Nathan Henne)
"El proceso de relaciones públicas"                                                                 
Jessica Molina-Spanish (Dr. Eileen Doll)
"Las Paredes: re-pensando las fronteras a través del arte"
 Max Boyce-Spanish (Dr. Nathan Henne)
 "Razones por el feminismo en España" 
Jackie Sands-Spanish (Dr. Eileen Doll)
"Los waorani antes y ahora: como la cultura waorani ha cambiado con la presencia de Occidente"
Angela Theresa Ray-Spanish (Dr. Isabel Durocher)
"La crisis de subjetividad de los refugiados sirios: el refuerzo y rechazo del estado de 'Bare Life' e identidad bajo el sistema del Estado Nación"
Theresa Solenski-Spanish (Dr.Eileen Doll)
"Inmersión en el mundo indígena y las 480 horas mexicanas"
Sean McLaughlin-Spanish (Dr. Nathan Henne)
And congratulations to senior Francesca Bua, who presented her Capstone project in French in Dr. Brager's class!