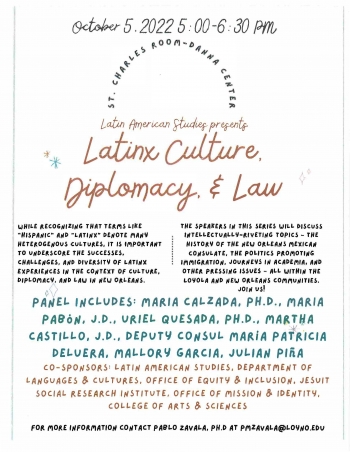 Latin American Studies will host the panel discussion, "Latinx Culture, Diplomacy, & Law" on Oct.5 at 5 p.m. to 6:30 p.m. in the St. Charles Room in the Danna Center. 
While recognizing that terms like "Hispanic" and "Latinx" denote many heterogeneous cultures, it is important to underscore the successes, challenges, and diversity of Latinx experiences in the context of culture, diplomacy, and law in New Orleans. The speakers in this series will discuss intellectually-riveting topics, such as the history of the New Orleans Mexican Consulate, the politics promoting immigration, journeys in academia, and other pressing issues, all within the Loyola and New Orleans communities. Join us!
The panel includes: CAS Dean Maria Calzada, Ph.D., Maria Pabon, J.D., Uriel Quesada, Ph.D., Martha Castillo, J.D., Deputy Consul Maria Patricia Deluera, Mallory Garcia, and Julian Pina. The event is sponsored by Latin American Studies, the Dept. of Languages and Cultures, the Office of Equity & Inclusion, the Jesuit Social Research Institute, the Office of Mission & Identity, and the College of Arts and Sciences.