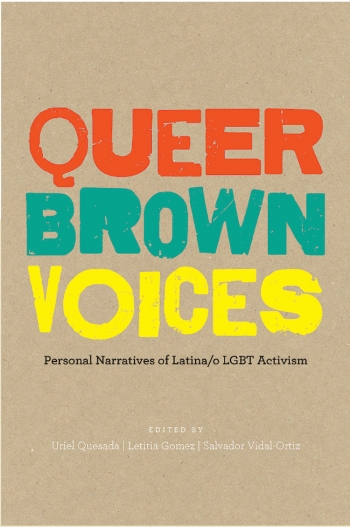 Congratulations to Uriel Quesada, Letitia Gomez, and Salvador Vidal-Ortiz, winners of the 2016 Ruth Benedict Book Prize for Queer Brown Voices.
The American Anthropological Association's Association for Queer Anthropology (AQA) is very pleased to announce that Uriel Quesada, Letitia Gomez, and Salvador Vidal Ortiz have been awarded the 2016 Ruth Benedict Book Prize in the category "Outstanding Edited Volume" for Queer Brown Voices: Personal Narratives of Latina/o LGBT Activism (University of Texas, 2016). The Ruth Benedict Prize is presented each year at the American Anthropological Association's national meeting to acknowledge excellence in a scholarly book written from an anthropological perspective that engages theoretical perspectives relevant to LGBTQ studies.
Queer Brown Voices offers a powerful corrective to whitewashed histories of LGBT activism. The collection counterbalances narratives that diminish the role of Latin@s or reduce discussions of antiracist efforts among queer organizers to a black-white binary. The editors, Quesada, Gomez, and Vidal-Ortiz, present oral histories, unmediated testimonios of queer Latin@ activists. Taken together, these stories provide a collective auto-ethnographic account of queer Latin@ activist engagements from the 1970s through the 1990s. The activists featured in the book hail from all parts of the United States, with roots throughout Latin America and the Caribbean. Queer Brown Voices canonizes the names of often unknown Latin@ activists, rendering a familiar narrative of queer liberation, dominated by Stonewall, in a new, transnational light.
By allowing activists to tell their own stories and resisting the temptation to reduce these accounts to evidence, Queer Brown Voices lives in the tradition of This Bridge Called My Back and Making Face, Making Soul--iconic texts that show the undeniable link between individual experience and social history. Of course, an entire life is an excessive, unruly thing. Honoring the many layers of autobiography, the editors give the accounts room to breathe. We read of heartbreak, friendships, family betrayals, antiwar activism, career missteps, and childhood fascinations. These rich details, threaded throughout accounts of activist organizations and local movements, become central to the social history in a way that revives the familiar premise that the personal is political. The intimacy of the personal narratives likewise provides a nuanced view of the sacrifices entailed in dedicating oneself to community activism--time away from loved ones, years spent fighting for organizations that fail, or balancing activism with making a living. Queer Brown Voices offers a treasure trove of inspiration and genealogy for young, queer Latin@ activists, as the editors intended, and the edited volume will also serve as an important work for anthropologists, historians, American studies scholars, and feminist and queer theoreticians.
The Ruth Benedict Book Prize will be presented to the winning authors during the AQA Business meeting on Friday, November 18 at the American Anthropological Association 2016 annual meeting. AQA would like to thank the Ruth Benedict Book Prize Committee for their thoughtful work, including former Benedict Prize winners Rudolf Gaudio and Noelle Stout, and Graduate Student Representative, Jara Carrington. For additional information, please contact the Committee Chair, Naisargi Dave, at naisargi.dave@utoronto.ca.