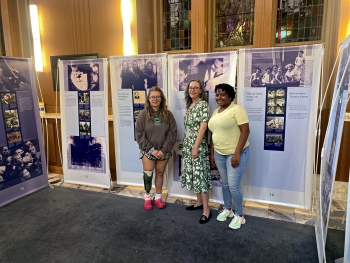 Professor and Co-Chair of the Languages and Cultures Department, Dr. Naomi Yavneh Klos, had a tremendous idea that came to fruition on March 17, 2022. She created a traveling exhibition titled, "Anne Frank: A History for Today," consisting of 30 panels that tell Anne Frank's story, the history of World War II, and the Holocaust.  Yavneh arranged for the exhibit to be on display in the Whitney Presentation Room in Thomas Hall on Loyola University's main campus in mid-March, and had seventh grade students from the Holy Name of Jesus School serve as tour guides to younger students as they made their way through the exhibit.
The young docents were trained to share the horrors and tragedies of the Holocaust by university students and staff from the Anne Frank House, a museum housed in the same place where the Frank family hid after Germany invaded the Netherlands. Trainers then used Frank's story to teach the preteens how to identify injustice as it happens today. By the end of the training, students saw parallels between how Jews were treated during World War II and the enslavement of Black people in the U.S. "We're learning about when slavery was happening. And I guess, in a way, the Nazis were similar to slavery because they were discriminating about something that doesn't define you as a person," said one middle school student.
The exhibit is tied to an honors level course at Loyola called "In Quarantine with Anne Frank." Dr. Yavneh designed the course after she saw people making comparisons between COVID-19 pandemic lockdowns and Anne Frank's life in hiding. "I suddenly began to see the name Anne Frank all over social media," Yavneh said. "All of these hideous memes, like, 'Was Anne Frank this bored?' Dr. Yavneh cut a year-long Fulbright cultural exchange program short because of the hopes of showing the exhibit once things got back to normal after COVID-19.
Soon after she returned to New Orleans, George Floyd was murdered by police officer Derek Chauvin, while three other officers stood by without intervening. She began to make connections between what happened to Frank and her family and the injustice of Floyd's death. She used these connections to design the class to teach her students about the dangers of systems that "perpetuate unjustified inequities."
"Obviously, we're not going to solve the problem of racism in our course, but the idea is that they have to be thinking about how the problem might be addressed in a constructive way," Dr. Yavneh said.
Loyola students Kaley Delker (left) and Diamond Dixon (right), pictured with Dr. Yavneh (above), also participated in the training from Anne Frank House alongside the middle-schoolers. The college students were impressed by the younger students' grasp of the information during the docent training. "You could just see their faces lighting up when they started to put all the puzzle pieces together like we did," Delker said. 
This is exactly how Dr. Yavneh envisioned the exhibit would work. She calls it "near-peer education." "It's so exciting [to learn from] kids who are a little bit older than you [and] are just so cool" ... "You feel like there's somebody who understands you and has more recently been in your shoes."
Dr. Yavneh found that many of her students had gotten little education about the Holocaust while in grade school and that the connections they were offered linking that  point in history with prejudice in today's society were shallow. "It's really important that they understand the various forms that hatred can take and also that anti-Semitism is one - it is still existing today - and it's one of the multiple forms of ungrounded or unfounded bias and racism that we can find today," Yavneh said.
Yavneh sees the exhibit as an opportunity to educate children in New Orleans from different socio-economic and cultural backgrounds. Now that Anne Frank House has trained her university students and the middle schooler from Holy Name of Jesus, she's hoping that the young guides can educate children from other schools in the districts starting in the fall. Those students would then pass on what they've learned to their younger schoolmates. 
In a city where the poverty level - 23%- is well above the nation's 11.4% rate, Yavneh said it's important to reach children from disparate groups.
"A lot of these disparities are because of systems that are in place, that have been in place for a long time, that create these inequities," Yavneh said. "We love the idea of bringing kids from all of the very different schools in New Orleans together for this training ... and really help kids learn to stand up against these distinctions."
This story was produced by the Gulf States Newsroom, a collaboration between NPR, WWNO in New Orleans, WBHM in Birmingham, Alabama and MPB-Mississippi Public Broadcasting in Jackson and written by Justice, Race and Equity reporter, Bobbi-Jeanne Misick. The story ran on NPR's "Here and Now" program on April 13. Click here to hear the story.