Environmental Roundtables are facilitated discussions of important environmental issues, hosted by the Loyola University Environment Program. Facilitators include Environment Program students, faculty and guest hosts.
---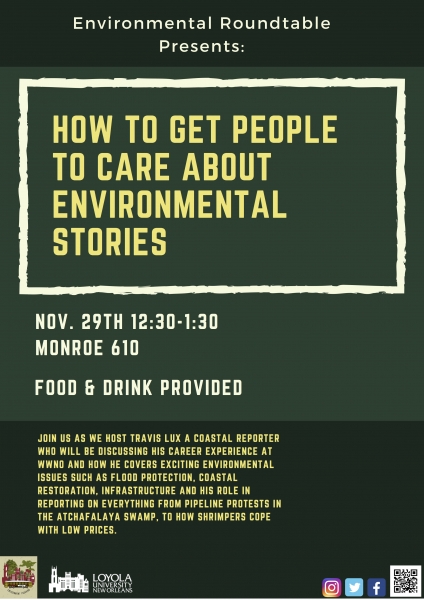 When: November 29th, 2018
Time: 12:30 – 1:30
Where: Monroe Hall 610
Who: Travis Lux
Title: Coastal Reporter for WWNO
Title of Talk: How To Get People To Care About Environmental Stories 
As Coastal Reporter, Travis Lux covers flood protection, coastal restoration, infrastructure, the energy and seafood industries, and the environment. In this role, he's reported on everything from pipeline protests in the Atchafalaya swamp, to how shrimpers cope with low prices. Join us as we hear more about Travis' career experience at WWNO and how he covers exciting environmental issues. 
Before joining WWNO, Travis reported for Marfa Public Radio in Far West Texas, and for WRKF in Baton Rouge. He studied Anthropology and Sociology at Rhodes College and radio production at the Transom Story Workshop.