Environmental Roundtables are facilitated discussions of important environmental issues, hosted by the Loyola University Environment Program. Facilitators include Environment Program students, faculty and guest hosts.
---
The Fall, 2022 and Spring, 2023 Environmental Roundtable series will focus on the transitions that the communities and businesses of Louisiana will navigate together to address climate change. Louisiana is a global energy hub at the center of active zero carbon technology development and deployment. Its communities are uniquely susceptible to the environmental impacts of climate change as well as the social impacts of a dramatic economic transition.
The series will explore the opportunities and issues associated with this transition and work to build understanding across the university and community. The series will explore the current status of international agreements and US industrial policy to develop and deploy new energy technologies. This will lead to the exploration of opportunities and issues associated with the transitions in energy and end-use sectors including the Hydrogen Economy, Decarbonizing the Electric Grid, Electric Vehicles, How Communities Respond, and Policy/ESG trends in government and business.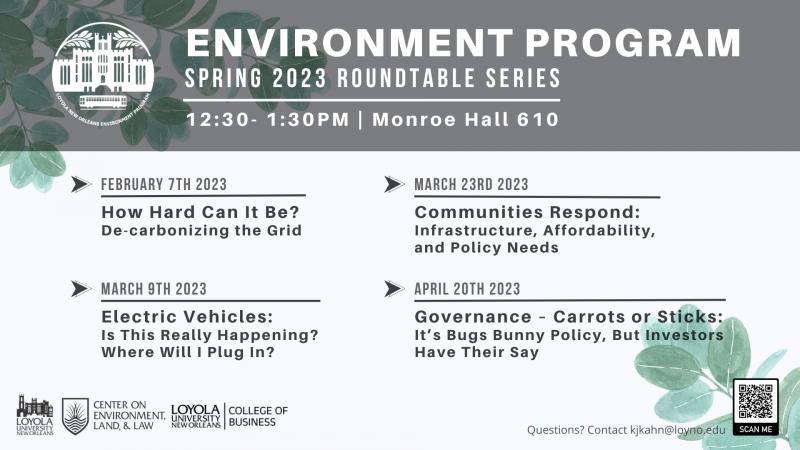 ---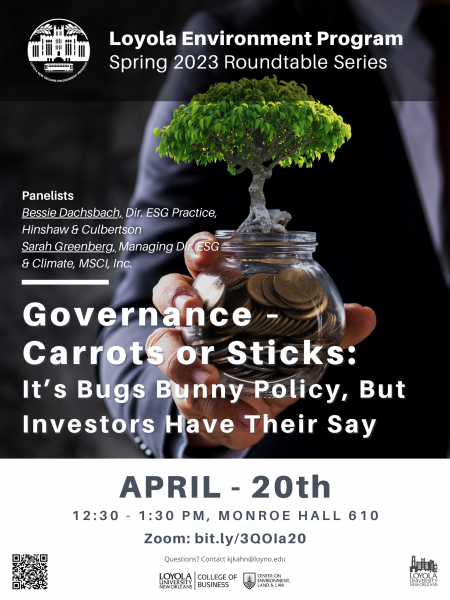 When: April 20th
Time: 12:30 – 1:45 pm
Where: Monroe 610
Presenters:
Bessie Dachsbach, Dir. ESG Practice, Hinshaw & Culbertson
Sarah Greenberg, Managing Dir. ESG & Climate, MSCI, Inc.
Title of Talk: Governance – Carrots or Sticks: It's Bugs Bunny Policy, But Investors Have Their Say
Join via Zoom: Zoom: bit.ly/3QOIa20
REGISTRATION Zoom Meeting LINK >>
https://loyno.zoom.us/meeting/register/tJ0rduuvpjorH9ck_Otjjlmkyn3Q4xYgnbdP
Please join us for our roundtable discussion "Carrots or Sticks, It's a Bugs Bunny World" where we will discuss the concept of Environmental, Social, and Governance (ESG) organizational practices as a critical driver of sustainable progress within organizations.  Current US policy for reduction of greenhouse gases and climate transition is based on economic incentives (carrots) that drive technology change and adaption.  This differs from historical environmental progress which has relied on structured regulatory frameworks with mandated emission reductions.  As a result, ESG practices become even more important to drive progress.  We will discuss this topic and the implications with Bessie Dachsbach and Sarah Greenberg.  Bessie is a partner with the law firm Hinshaw and Culbertson where she heads the firm's Environmental, Social, and Corporate Governance to help clients navigate issues in support of sustainable growth.  Sarah Greenberg is a Managing Director of ESG and Climate for MSCI, Inc. in New York City which provides decision support services for the global investment community.