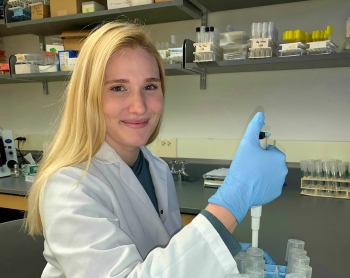 Sidney Williams, ENVB '20 is currently working on a research project investigating the effects of
silicate concentrations of growth of a diatom, Skeletonema costatum, in a defined media. The
motivation to produce a media alternative to the universal, nutrient-rich media, is to more accurately
monitor the growth of diatoms based on the chemistry of the water from where they were collected.
The organisms found within Lake Pontchartrain have adapted to thrive with the proportion of
nutrients specific to the Pontchartrain Basin. Nutrient-rich media has long been used for algal culture
growth experiments. However, nutrient-rich media does not reflect the ionic proportions as they are
available in nature. To accurately understand the growth and responsiveness of the algae being
cultured, the media must proportionally emulate the chemicals that are available in the environment
from which the algae were collected. In addition to her research, she is in the GIS certification
program at Tulane University where she geospatially illustrates large scale data sets.