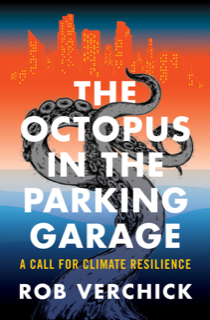 Rob Verchick is a leading climate law scholar who designed and implemented climate-resilience policies in the Obama administration. He holds the Gauthier-St. Martin Chair in Environmental Law at Loyola University New Orleans, is a senior fellow in Disaster Resilience at Tulane University, and serves as president of the Center for Progressive Reform. Verchick is the author of four books and host of the podcast Connect the Dots.
Rob Verchick examines how we can manage the risks that we can no longer avoid, laying out our options as we face climate breakdown. Although reducing carbon dioxide emissions is essential, we need to adapt to address the damage we have already caused. Verchick explores what resilience looks like on the ground, from early humans on the savannas to today's shop owners and city planners. He takes the reader on a journey into the field: paddling through Louisiana's bayous, hiking in one of the last refuges of Joshua trees in the Mojave Desert, and diving off Key Largo with citizen scientists working to restore coral reefs. The book emphasizes disadvantaged communities, which bear the brunt of environmental risk, arguing that building climate resilience is a necessary step toward justice.
Check out Rob Verchick's book here.