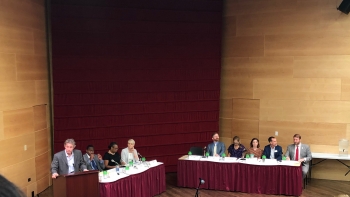 Loyola College Democrats partnered with Benjamin Franklin High School's Green Society and Loyola University's Environment Program to host a night of discussion and debate with state representatives from Districts 91 and 98.  Students from Ben Franklin High School facilitated a forum focused on local environmental issues ranging from coastal restoration to renewable energy. Loyola College Democrats also hosted a debate later that night on a wider range of issues important to New Orleans voters for the candidates running in District 98. Congratulations and good job to all involved, the event was a success! 
Click Here to view the channel 4 news coverage on the event! 
Click Here to view our photos of the event!