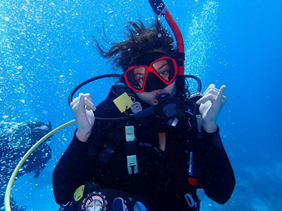 The summer after my sophomore year of college, I traveled with Dr. Connie Rodriguez and a group
of other classical studies students as the first group to break ground on Castle Craig, a world
heritage site in Scotland (Figure 1). This experience kick-started my passion for archeology and
sparked my ambition to pursue a career in the field. During my junior year, I had the pleasure of
taking the Human Ecology course offered at Loyola. This class led me down the track of earning a
minor in environmental studies. Once I joined the Environment Program I enrolled in the Tropical
Ecology course and joined the trip to Roatan, Honduras where I earned my open water SCUBA
certification (Figure 2). Once I knew that I was going to earn my open water certification, I applied to
several underwater archeological digs and was accepted to join The Shipwreck Survey in St.
Eustatius summer of 2019. Once there I learned the proper methodology of conducting an
underwater dig and managed to convince the leader of our field school to allow me to stay on for an
expedition with the condition that I earn my enriched and advanced open water certifications in the
days between the field school and the expedition. After earning these certifications I joined The
Shipwreck Survey's expedition team which dove on unknown areas surrounding St. Eustatius. For
my final year at Loyola, I plan on applying to graduate schools with the intention of earning a
Master's Degree in maritime archeology.