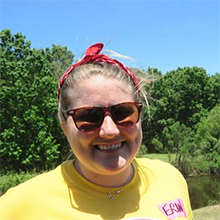 ERIN KNOWLES
Communications and Outreach Associate
Erin believes in the power of effective communication to find common ground and create transparency around environmental issues. She graduated from Loyola University New Orleans in 2015 with a B.A. in Environmental Studies and minors in Film and English. As a student she was president of Loyola Association of Students for Sustainability and received an award for Outstanding Achievement in Environmental Communications for her dedication to raising awareness of and finding solutions for current environmental challenges. Previously, Erin worked as a Grassroots Organizer for Citizens Campaign for the Environment where she educated the public on crucial environmental issues and provided tools for community engagement. During her time at Loyola, Erin interned at Green Light New Orleans where she helped coordinate volunteer events and managed the organization's social media pages before starting at Restore the Earth Foundation.
SENIOR LEADERSHIP | Restore the Earth click here to view the website.