Loyola University Chicago Climate Change Conference March 16-17, 2017
Dr. Eric Hardy, History and Environment Program faculty member, and 4 Environment majors Max Boyce, Adrienne Ingram, Anthony Rizzi, and Brigid Richwine attended and participated in the LUC Climate Change Conference this year. The students presented their poster on Sustainability and Community Practices on Environmental Justice. Twelve AJCU Universities had representatives from their Environment Programs participate and discuss better ways of developing Campus Sustainability on their respective campuses.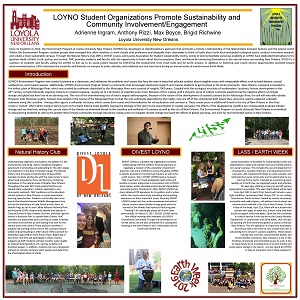 Climate Justice: The Struggle for our Common Home
This year's conference will focus on the nexus of food, water and poverty issues associated with global climate change. We are excited to announce that this year's keynote speaker will be Mary Robinson. Robinson has served as the President of Ireland, the UN Commissioner of Human Rights, the UN Secretary General's Special Envoy for the Great Lakes region of Africa, and the UN Secretary General's Special Envoy on Climate Change. She is a charismatic and compelling speaker with an impressive knowledge of Climate Justice and Human Justice. She will present on The Nexus of Food, Water, Poverty, and Climate Change.