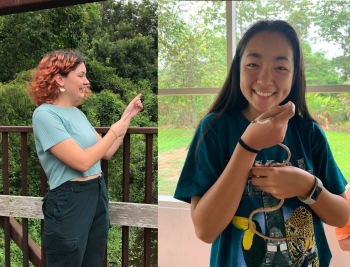 ENVT '21 majors Amanda Snyder and Amanda Tang Nian have been working together at New Orleans City Park in developing an environmental education curriculum. They presented their environmental hands-on learning strategies at this years NABT conference. Congratulations to you both!
Amanda Snyder, ENVT '21, worked to help develop an environmental education curriculum for New Orleans City Park in her sophomore and junior year. She recently presented this work at the National Association of Biology Teachers conference. Now, she is completing her teaching residency and assisting in Dr. Thomas's lab and nurdle research.
Click here to view her presentation.
Amanda Tang Nian, ENVT '21, interned at City Park during her sophomore and junior year to help develop hands on environmental education activities. This year she presented the benefits of hands on learning strategies, using her internship as a case study, at the NABT conference. She is now teaching part time at a school  back home in Trinidad and Tobago, where she hopes to apply teaching styles that she learned from her time at Loyola."