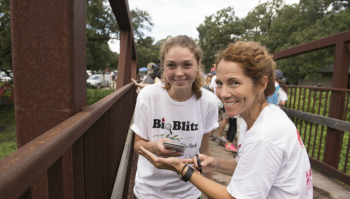 Dr. Aimée  K. Thomas and Shannon Hester (ENVT '19) just published a paper in Southeastern Naturalist in collaboration with California Academy of Sciences scientist, Dr. Sarah Crews, on a species of spider never documented in Louisiana.  This natural history paper includes the molecular analyses that indicate the spider represents a distinct population. It is available online now and in print next month.
Crews, S.C., Thomas, A.K. and Hester, S. (2018). First record of Selenops submaculosus
    Bryant (Araneae, Selenopidae; a flattie spider) from Louisiana. Southeastern
    Naturalist. 17 (1):N10-N14.
Click here to view the online publication.