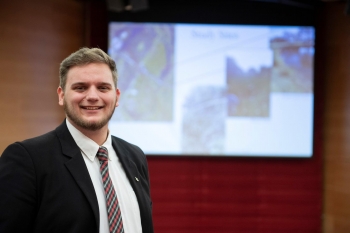 Andrew has worked in the Thomas lab in a research capacity since his freshman year. First as a volunteer assistant on other projects, then eventually co-developing projects to finally, developing his own novel research based on his interests in the environment, dragonflies and aquatic systems. His ENVA capstone/Honors Program research project (Urban Management effects on New Orleans Odonate Communities) started the summer after his sophomore year studying the dragonfly and damselfly communities of the New Orleans City Park. So far, he has presented his research in the Mentored Undergraduate Research poster competition at the National Association of Biology Teachers conference in San Diego, CA and will present in April at LSU Discover Day 2019 undergraduate research and creativity symposium. He was also asked to develop a talk for the New Orleans Botanical Gardens event for families to learn the natural history of Odonate communities and learn how to properly catch and handle these organisms. He had the largest attendance for an outreach event there this year. Based on his research and experience, he also designed a program with park rangers to teach kids about insects and how to collect them.
In addition to this research experience, he was also selected to a highly competitive internship with the St. Tammany Parish Mosquito Abatement District where he gained knowledge of mosquito biology and development, and acquired skills in mosquito identification during summer after his junior year. Specifically, he collaborated on research projects corresponding to mosquito development and how to properly control mosquito populations. They have invited him to return for one more summer upon graduating from Loyola this May.
Andrew is highly deserving of this award because he has shown the capacity to do research with a team, as a team leader, and independently. His attitude and work ethic also contribute to his research qualities.