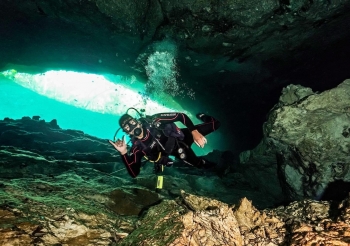 2019 ENVS Alum Anthony Rizzi has been busy exploring the Cenotes of Central America. 
"Though it's technically not an ocean, cenotes share a similar role as the life line for most Central American civilizations. These networks of caves are still being explored, and that's what we should be doing as a society - exploring. Humanity is on its greatest adventure right now through climate change, but it is one we must keep moving forth for future generations. Our oceans are our greatest lifeline. As powerful, awesome, and beautiful - oceans are also fragile. Educate, explore, participate."
Congratulations Anthony!