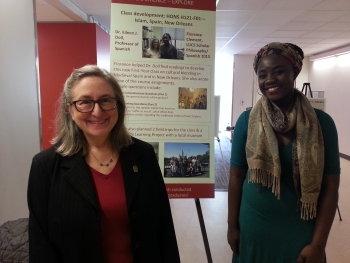 Islam, Spain, New Orleans
(This course is ONLY open to students who are enrolled into the Honors program)
Professor Eileen J. Doll, Department of Languages and Cultures
Disciplines:  Literature, Medieval History
How does one culture influence another? Starting with the medieval history of Spain, when Islamic culture was at its peak in Europe, this course examines how Islamic culture affected the existing Christian and Jewish cultures of the Iberian Peninsula. We explore the cross-cultural history of 18th-century New Orleans, when it was part of the Spanish empire. Connecting to the present, we also investigate current immigration --legal and illegal-- from Africa to Spain, and compare the problems and benefits of cross-cultural assimilation to those in the United States, and particularly to Louisiana. The class includes a required Service Learning project for the Isleños Museum and community of St. Bernard Parish, Louisiana.
Dr. Doll teaches all areas of Peninsular Spanish Literature and Culture, as well as introductory, intermediate, and advanced Spanish language classes. Dr. Doll is the Director of the Loyola Summer Program in Spain. 
Florence Clement (Philosophy/Spanish major 2015), Loyola Undergraduate Collaborative Scholarship Scholar with the University Honors Program, assisted Dr. Doll in the creation of this class. Florence did bibliographic research, helped plan the Service Learning Project, and developed questions for some of the readings.
For more information, see this video: https://vimeo.com/120815705