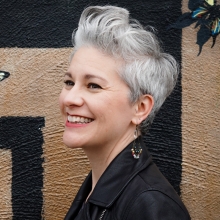 Dr. Rae Taylor joined the Loyola University New Orleans faculty in the fall of 2009 after completing her Ph.D. in Sociology. Her research and teaching interests include intimate partner violence and other violent crimes, societal and organizational responses to violent crime and social inequalities, as well as issues pertaining to mass incarceration. She has been the recipient of the University Faculty Senate Award for Research, the Marquette Research Fellowship, and the Ignatian Faculty Fellowship. She has published her work in Violence Against Women, Homicide Studies, and numerous other academic journals, books, and encyclopedias. She is a member of several professional organizations, including the American Society of Criminology, the Homicide Research Working Group, and the Academy of Criminal Justice Sciences, where she regularly presents her research.
Dr. Taylor's teaching and research are informed by her dedication to service in the community. She is a member of the New Orleans Fatality Review Team and is a volunteer medical victim advocate with the New Orleans Family Justice Center/University Medical Center. In addition, she serves as an expert witness in local jurisdictions.
Dr. Taylor has been chair of the Department of Criminology and Justice since 2015. She founded the Gendered Violence Research Project in 2022, where she and her students conduct research, train professionals in victim advocacy and expert witness testimony, provide legal consultation, and contribute a variety of community service.
Recent Publications
Frailing, K., Alfonso, B., & Taylor, R. (2022). Therapeutic jurisprudence in Swift and Certain probation. In M. Perlin and K. Frailing, (Eds). Justice outsourced: The implications of judicial decision-making by non-judicial officers for therapeutic jurisprudence. Philadelphia, PA: Temple University Press
Taylor, R., & Pedalino, J. (2020). From Victimization to Incarceration: IPV, Cycles of Abuse, Addiction, and Incarceration. In C. Marcum, L.M. Carter, L.M., and Blankenship, C.L. (Eds.) Punishing Gender, Past and Present. Cognella, Inc.191-201.
Frailing, K., Alfonso, B., & Taylor, R. (2020). Therapeutic Jurisprudence in Swift and Certain Probation. American Behavioral Scientist, 64(12), 1768-1785.
Frailing, K., Kennedy, J., Taylor, R., & Rapp, V. (2020). Swift and Certain Probation: Assessing Fidelity to the HOPE Model." European Journal of Probation, 12(3), 265-281.
 
Frailing, K., Rapp., V., & Taylor, R. (2020). Swift and Certain Probation as a HOPE-Like Model: Progress Toward Goals and Lingering Challenges. Corrections: Policy, Practice and Research.
Taylor, R. (2016). Victim Statements. S. F. Sharp (Ed.) The Encyclopedia of Corrections. Wiley-Blackwell.
Post, L.A., Raile, A. N. W, Zeoli, A. M., Taylor, R., Smith, P.K., Dziura, J.D., Biroscak, B.J. (2015). Domestic Violence Homicide: Validating a Scale to Measure Implicit Collusion with Murder. Health Sciences Research 2(1), 1-8.
Degrees
Ph.D., M.A., B.A., University of Central Florida
Classes Taught
Criminology Fundamentals
Murder, Mayhem, and the Media
Women and Crime
Research & Statistical Methods
Domestic Violence
Crisis Intervention
Violent Crime and the Media
Violence Against Women
Mass Incarceration