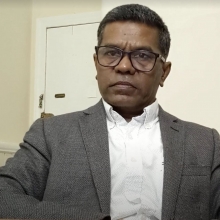 Dr. Herath is a bio-organic chemist, and an accomplished instructor for chemistry and biochemistry, especially in Allied Health Programs.  He earned a Doctor of Natural Sciences and Philosophy degree from the University of Bern, Switzerland.  
Before he joined Loyola, he served as an instructor for Case Based Learning and Foundation of Scholarships Programs at the Faculty of Medicine, University of British Columbia, Vancouver, Canada.  He is a dedicated mentor for numerous medical, dental, pharmacy, kinesiology students.  His latest interests are focused on public health, youth safety, youth educational challenges, youth wellness, addictive substances, and legislation.  
At Loyola, Dr. Herath teaches chemistry for nursing students and organic chemistry labs for majors and non-majors.
Recent Publications
1. " The Approach Taken by Canada's Province of Nova Scotia to ban the Sale of Flavored Electronic Cigarettes". Journal of Global Health Economics and Policy, accepted Aug. 2022., Bandara NA, Vallani T, Zhou XR, Herath J, Mehrnoush V.
2. "Engaging Youth to Address Misinformation Pertaining to E-Cigarettes: Youth Participation in the Research Process" accepted to publish in Current Research in Psychology and Behavioral Science (CRPBS) 2022 August. N.A Bandara (MKin) Medical Student 1 , X.R Zhou (MKin) Master's student 2 , T. Vallani Medical Student 1 , P. Sandhu (BSc) Pharmacy Student 3 , J. Herath (PhD) Instructor 4
3. "Addressing the intersection between COVID-19 and young people vaping: Timely resources needed" Nilanga Aki Bandara, Vahid Mehrnoush, Jay Herath Canadian Medical Association Journal. Aug 2020.
4. "Reopening Schools Safely During the Pandemic" British Columbia Medical Journal. Ediriweera Desapriya, Sarah Yassami, Jay Herath., Sept 2020
5. "Addressing a dual public health emergency" Canadian Medical Association Journal. Nilanga Aki Bandara, Vahid Mehrnoush, Jay Herath., Aug 2020.