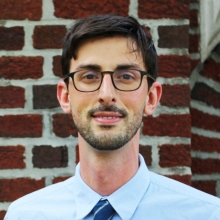 Dr. Stephenson is an organic chemist whose specializes in supramolecular organic chemistry. His research focuses on the modification of fluorescent xanthene dyes to form novel fluorescent platforms for sensing analytes and studying supramolecular interactions. Specifically these modified dyes are used to: 1) study the signaling mechanism with different analytes, 2) create novel platforms for chiral sensing, 3) form fluorescent polymeric materials for enhancing current purification methods, 4) investigate specific supramolecular interactions, 5) further the understanding of the effect physical stress has on bond breaking.
Before coming to Loyola, Dr. Stephenson taught for three years at Carthage College in Kenosha, WI where he taught classes in organic and general chemistry and conducted research with undergraduates.
Dr. Stephenson's work has been published in journals such as Organic and Biomolecular Chemistry, Dalton Transactions, Current Opinion In Chemical Biology, and Polymer International.
Recent Publications
"Molecularly imprinted polymer sensor arrays", Stephenson, C. J.; Shimizu, K.D., Current Opinion In Chemical Biology, 2010, 14, 743.
"A fluorescent diastereoselective molecular sensor for 1,2-aminoalcohols based on the rhodamine B lactone–zwitterion equilibrium", Stephenson, C. J.; Shimizu, K. D., Organic and Biomolecular Chemistry, 2010, 8, 1027.
"Toward the development of prochelators as fluorescent probes of copper-mediated oxidative stress", Hyman, L. M.; Stephenson, C. J.; Dickens M. G.; Shimizu, K. D. And Franz, K. J., Dalton Transactions, 2010, 39, 568.
"Colorimetric and fluorometric molecularly imprinted polymer sensors and binding assays", Stephenson, C. J.; Shimizu, K. D., Polymer International, 2007, 56, 482.
Degrees
Ph.D., The University of South Carolina, 2008; B.S., Mississippi College, 2003
Classes Taught
Organic Chemistry Lecture
Organic Chemistry Lab