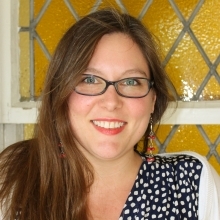 Dr. Heinecke is a multidisciplinary chemist with experience in organic, inorganic and biological chemistry. She has been a faculty member at Loyola since 2013 and is interested in preparing novel nanomaterials for biomedical drug delivery applications as well as catalysis. She began her scientific career as an undergraduate researcher at James Madison University (a PUI like Loyola) where she developed synthetic techniques for open framework metal phosphonates. During her Ph.D. work, she synthesized small organic molecules for targeted biological applications in myotonic dystrophy and anti-biofouling. Then, as a postdoctoral scholar she synthesized gold nanoclusters, investigated the structural basis for ligand place exchange and evaluated their toxicity in vitro and in vivo. Dr. Heinecke is also an avid karaoke enthusiast, and you may on occasion find her singing in the lab.
Recent Publications
Jensen, Kirsten M.O.; Juhas, Pavol; Tofanelli, Marcus A.; Heinecke, Christine L.; Vaughan, Gavin; Ackerson, Christopher J.; Billinge, Simon J. L. "Polymorphism in magic-sized Au144(SR)60 clusters. Nature Communications, 7, 2016, DOI: 10.1038/ncomms11859
Wong, O. Andrea; Hansen, Ryan J.; Ni, Thomas W.; Heinecke, Christine L.; Compel, W. Scott; Gustafson, Daniel L.; Ackerson, Christopher J. Structure Activity Relationships for Biodistribution, Pharmacokinetics, and Excretion of Atomically Precise Nanoclusters in a Murine Model. Nanoscale, 2013, 5, 10525 – 10533.
Heinecke, Christine L. and Ackerson, Christopher J. Preparation of Gold Nanocluster Bioconjugates for Electron Microscopy. Nanoimaging: Methods and Protocols, Methods in Molecular Biology. Volume 950, Chapter 17, pp. 293 – 311, 2013. Edited by Alioscka Sousa and Michael J Kruhlak.
Heinecke, Christine L.; Ni, Thomas W.; Malola, S.; Wong, O. Andrea; Hakkinen, Hannu; Ackerson, Christopher J. Structural and Theoretical Basis for Ligand Exchange on Thiolate Monolayer Protected Gold Clusters. Journal of the American Chemical Society, 2012, 134, 13316 – 13322.
Wong, O. Andrea; Heinecke, Christine L.; Simone, Ashli R.; Whetten, Robert L. and Ackerson, Christopher J. Ligand Symmetry-Equivalence on Thiolate Protected Gold Nanoclusters Determined by NMR Spectroscopy. Nanoscale, 2012, 4, 4099 – 4102.
Degrees
Ph.D. Chemistry, North Carolina State University 2004 – 2009; B.S. Chemistry*, ACS Certified James Madison University 2000 – 2004 *Concentration in Materials Science
Classes Taught
General Chemistry I & II Lecture + Lab

Organic Chemistry I Lecture

Organic Chemistry I & II Lab

Integrated Chemistry I Lab

Advanced Topics: Nanochemistry

 
Areas of Expertise
Nanomaterials

Bio-organic Chemistry