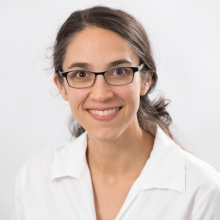 Dr. Schoeffler is a biophysical chemist with an interest in structure-function relationships in biological macromolecules. She received her Ph.D. from U.C. Berkeley, after which she spent five years working in early discovery research at Genentech, a major pharmaceutical company. Prior to joining Loyola, she was an assistant professor at Spring Hill College.
Research Interests:
Dr. Schoeffler's research centers on understanding the structural and biophysical determinants of protein function, particularly enzyme specialization. She uses structural biology, biochemistry, bioinformatics, and biophysics to interrogate clinically and biophysically relevant enzyme classes. In addition to her lab at Loyola, Dr. Schoeffler maintains ongoing collaborations with researchers at Louisiana State University and the University of Alabama, Tuscaloosa. Her work has appeared in Science, Nature, and Proceedings of the National Academy of Sciences.
Teaching Interests:
At Loyola, Dr. Schoeffler teaches Physical and General Chemistry. Her teaching interests include developing deeply integrated interdisciplinary courses, teaching writing across the disciplines, and incorporating coding into science curricula. In addition to traditional chemistry courses, she has taught interdisciplinary courses uniting science, ethics, and philosophy as well as service learning courses. She is committed to liberal arts education and loves working with students of all levels in the classroom and the lab.
Recent Publications
Dueber, E.C.; Schoeffler, A.J.; Lingel, A.; Elliott, J.M.; Fedorova, A.V.; Giannetti, A.M.; Zobel, K.; Maurer, B.; Varfolomeev, E.; Wu, P.; Wallweber, H.J.; Hymowitz, S.G.; Deshayes, K.; Vucic, D.; Fairbrother, W.J. Antagonists induce a conformational change in cIAP1 that promotes autoubiquitination. (2011) Science 334: 376-380.
Li, Y.; Stewart, N.K.; Berger, A.J.; Vos, S.; Schoeffler, A.J.; Berger, J.M.; Chait, B.T.; Oakley, M.G. Escherichia coli condensin MukB stimulates topoisomerase IV activity by a direct physical interaction. (2010) Proceedings of the National Academy of Sciences 107: 18832-18837.
Schoeffler, A.J.; May, A.P.; Berger, J.M. A domain insertion in Escherichia coli GyrB adopts a novel fold that plays a critical role in gyrase function. (2010) Nucleic Acids Research 38: 7830-7844
Schoeffler, A.J.; Berger, J.M. DNA topoisomerases: harnessing and constraining energy to govern chromosome topology. (2008) Quarterly Reviews of Biophysics 41: 41-101