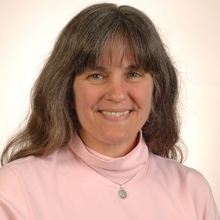 Lynn Vogel Koplitz has been a faculty member at Loyola since 1988. In 2008, she was named the Earl and Gertrude Vicknair Distinguished Professor of Chemistry. She received the university's highest honor for faculty, the Dux Academicus Award for excellence in teaching, scholarship and community service, in 2006. From 2004 until 2006, she served as the fourth Director of the University Honors Program. She shared the distinction of Honors Professor of the Year with Dr. Robert Gnuse in 2005 and was also chosen to receive the University Senate Community Service Award that same year. In 2007, 2009, and 2013 Koplitz was honored with a Marquette Faculty Fellowship. She became chairperson of the Department of Chemistry in 2013.
Before coming to Loyola, she was a visiting professor at Pomona College and UCLA where she taught general as well as physical chemistry and upper-level labs. She earned a Ph.D. in physical chemistry with Don McClure at Princeton University in 1986. Muhlenberg College, her undergraduate alma mater, awarded her summa cum laude and Phi Beta Kappa honors.
Two of her former research students have completed graduate work with members of the National Academy of Sciences. Three others have done summer research at the University of Zurich. Three of Loyola's Goldwater Scholars have done original research with Koplitz. Several have studied medicine in prestigious programs including Stanford MD/PhD, Columbia Med, Johns Hopkins, and Tulane.
The results of her research projects have been published in prestigious journals including Inorganic Chemistry, Applied Physics Letters, Physical Chemistry and, with undergraduate co-authors, in Environmental Science and Technology, Acta Crystallographica, and the Journal of Chemical Crystallography. Currently, Dr. Koplitz and her students are using experimental and computational methods to investigate the effects of non-covalent interactions on the properties of crystals.
During her twenty-seven-year tenure at Loyola, Koplitz has taught twenty different courses in chemistry for science majors and non-science majors alike, though she is most well known for teaching General Chemistry for freshmen science majors. Her husband, Brent Koplitz, is chairman of the Department of Chemistry at Tulane University.
Degrees
Ph.D., Princeton University, 1986; M.A., Princeton University, 1983; B.S., Muhlenberg College, 1981
Areas of Expertise
Physical Chemistry
Inorganic Chemistry
Environmental Chemistry