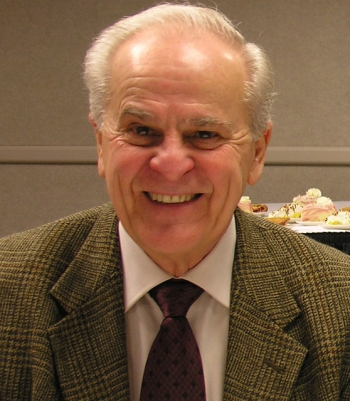 Chemist Gregory R. Choppin '49 enjoyed a fascinating career as a chemist, particularly during the peak of the Cold War. In 1955, Choppin and three other chemists discovered chemical element 101, which they named Mendelevium in honor of Dmitri Mendelev, the creator of the periodic table of the elements.
Choppin was awarded two Fulbright grants and a Swedish Research Council Grant and was named a Danforth Associate by the Danforth Foundation. He was awarded an honorary doctor of science degree from Loyola and an honorary doctor of technology degree from Chalmers University at Goteborg, Sweden.
He also received awards from the American Chemical Society, the Alexander von Humboldt Stiftung, the American Nuclear Society, the Florida Academy of Sciences and the American Institute of Chemists.
Choppin served as a consultant to Lawrence Livermore National Laboratory, Argonne National Laboratory, Los Alamos National Laboratory, Sandia National Laboratories and several other private laboratories. His major research interests included inorganic and nuclear chemistry with emphasis on the lanthanide and actinide elements.
Choppin earned his doctorate degree from the University of Texas at Austin. He was awarded the R.O. Lawton Distinguished Professor Emeritus of chemistry at Florida State University in Tallahassee, Fla., where he has taught since 1963.
Choppin passed away in Tallahassee on October 21, 2015. For more information on his extraordinary life, please click here to read his obituary.