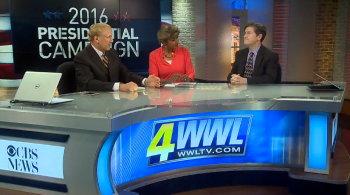 Political Science Professor Sean Cain analyzed the 2016 Presidential Race on WWL-TV Channel 4 in New Orleans.
In his analysis, Cain said this has been one of the most unpredictable presidential races in history. Cain expects that the presumptive Republican presidential nominee, Donald Trump, may have a hard time unifying his party and gaining popular support during the general election because he has taken aim at critizing so many minority groups.
Cain said the race for the Democratic presidential nomination is just as interesting as Former Secretary of State Hillary Clinton squares off against Sen. Bernie Sanders. Cain said that he expects Bernie Sanders to stay in the Democratic primary race until the very end and that he doesn't expect that Sanders' support from younger voters will necessarily transfer to Sec. Clinton in a general election.