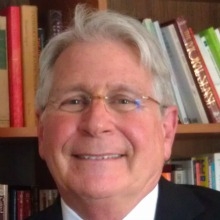 Dr. Roger White, vice provost and associate professor, was part of a lecture and panel discussion held at Loyola University in February 2009 on Balkan Art and Politics on Both Sides of the Serbian/Kosovo Border.
In addition to White, Dr. Michael Devine, Canadian theatre director, and Behrooz Moazami, assistant professor of history, were on the panel. The lecture was sponsored by the Biever Guest Lecture Series and the Department of Theatre Arts and Dance.
Dr. Roger White's teaching and research interests include Civic Education, Civil Discourse, and Civic Engagement, and other courses within the subfield of Political Theory. In 2004, he received the Loyola City College Award for Excellence in Teaching.  In 2005, he was named Professor of the Year for the state of Louisiana by the Carnegie Endowment for the Advancement of Teaching.  In 2006, he received the Loyola, City College Award for excellence in Community Service.  In 2008, Dr. White received the Award for Faculty Advisor of the Year by the Loyola Student Government Association.
Dr. White's research has appeared in Social Theory and Practice, International Studies in Philosophy,The Journal of Thought, The Journal of Information Technology Impact, and Bulletin de la Societe Americaine de Philosophie de Langue Francaise.  He is currently at work on developing models for community organizing and community empowerment in an age of globalization.  
Dr. White serves as the Vice Provost for Academic Programs of Loyola University New Orleans and is the Faculty Adviser for Loyola Society for Civic Engagement (LSCE).  He also serves as Faculty Advisor for Loyola's annual student scholarship conferences devoted to themes such as World Peace.