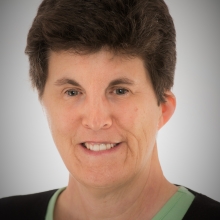 Dr. Bednarz's research interests include the social and cultural context of the early Christian world and early Christian literature. Currently, she focuses on humor forms and functions in the Roman world and its relevance for understanding agonistic accounts in the Christian Bible.
Her studies of Roman and Christian antiquity have included several programs abroad:
Christian Origins in Asia Minor, Turkey (Spring, 2007)
Roman Art and Archaeology, Rome, Pompeii and Naples (Summer, 2003)
The Catholic Theological Union Biblical Lands Study Program, Malta, Tunisia, Greece, Palestine, Israel, Egypt, Jordan (Fall, 2000)
Catholic Theological Union Study of Early Christianity, Malta and Tunisia (Summer, 2000)
Sister Terri is a member of the Sisters of Mercy of the Americas, an international community of Roman Catholic women committed to global justice with a critical emphasis on the promotion and appreciation of cultural diversity and economic justice.  In the summer of 1988, she participated in the Institute for Black Catholic Studies at Xavier University New Orleans.  In 2001, she participated in Crossroads Ministry - a training seminar dedicated to raising awareness of racism and its effects.  She has completed cultural and language studies at the Mexican American Cultural Center in San Antonio, Texas (Spring, 1998) and at the Italiaidea Linguistic and Cultural Program in Rome, Italy, (Summer, 2003.)
Before completing a doctorate in Biblical Studies in 2009, she worked extensively in the areas of social justice and service-learning.  Her teaching ministries included the development of two Mercy Service Learning programs and the establishment of the Mercy SummerCorps program, a cultural immersion program that linked students with eleven U.S. urban programs.  She also taught service-learning seminars for educators in Oklahoma and Arkansas.
Professor Bednarz is also a Faculty Member of the Catholic Studies Program and the Women's Studies Program.
Recent Publications
Humor in the Gospels: A Sourcebook for the Study of Humor in the New Testament (1863–2014). Maryland: The Rowman & Littlefield Pub./Lexington Books (2015). Pgs. 354.
"Status Disputes and Disparate Dicta: The Rhetorical Functions of Lukan Humor (Luke 16:14–18)," Biblical Interpretation 21, no. 3 (2013): 377–415.
"Symposiac Humor in Luke 14:1-24." Finding a Woman's Place: Essays in Honor of Carolyn Osiek. Edited by David L. Balch and Jason T. D. Lamoreaux. Princeton Theological Monograph Series. Eugene, Oregon: Wipf and Stock, 2011.
Book Review: Dynamics of Identity in the World of Early Christianity by Philip A. Harland (T&T Clark, 2009) in Catholic Library World Vol. 81:3 (2011).
Degrees
Ph.D., Texas Christian University, Fort Worth, Texas; M.A., Catholic Theological Union, Chicago, Illinois
Classes Taught
New Testament as Literature
Humor, Power, and Prejudice
The Bible and the Media
Parables of Jesus
Humor and the Bible
Areas of Expertise
Synoptic Gospels, Humor in the Christian Bible, Social & Cultural Context of the Early Christian World