Be Part of a Community...
The Physics Department is dedicated to helping their students achieve success both in the classroom and beyond. The department is comprised of a tight-knit group of majors with students active in a variety of clubs, including the Society of Physics Students. Physics students organize various campus events, travel to local schools, study together, relax together, and have an exclusive use of the "Physics Reading Room" – a student lounge with a computer lab and kitchenette.
Research Beyond the Classroom...
Physics students conduct and participate in a variety of undergraduate research projects leading to publications, conference presentations, and seminars. Students are highly involved faculty research of expertise; including biophysics, quantum optics, cosmology, gravitational physics, condensed matter physics, robotics and machine learning. The students have presented at national and regional conferences, co-authored published articles, and presented at Loyola seminars.
Continued Success After Graduation...
The students of the Physics Department achieve a wide variety of accomplishments after graduation. Physics alumni often continue their education in medical schools (very high acceptance rate), various engineering fields, astrophysics, neuroscience, statistics, earning MD, PhD or MSc degrees. Others have entered workforce directly and our alumni now work as researchers (astrophysics, neuroscience), engineers (off-shore wind turbines, biomedical, software), teachers and in many other professions.
Discover Academics
The Department of Physics offers Bachelor of Science degrees in physics, pre-engineering, pre-health physics and liberal arts physics. Scholarships are available to Physics students based on their academic achievement and/or financial need. For a complete list of Physics scholarships click here. Learn more about our programs of study »
Faculty Success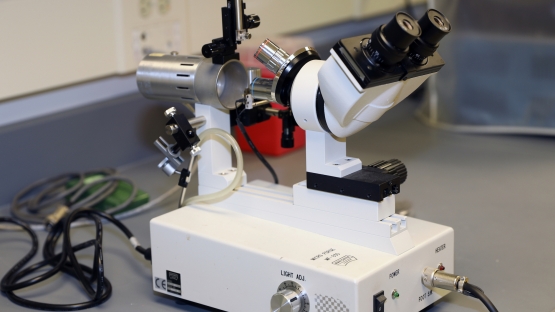 The Department of Physics is pleased to announce the newest addition to our faculty, Arnaldo J. Vargas. Arnaldo is a graduate of Universidad de Puerto Pico. He will soon be receiving his Ph.D. from Indiana University Bloomington where he has worked for the last 7 years educating students as their laboratory instructor, discussion leader, and course instructor. Arnaldo has had multiple publications in the Physics Review and has presented his research at seminars throughout the US and Japan.
---
See all Successes
Student Success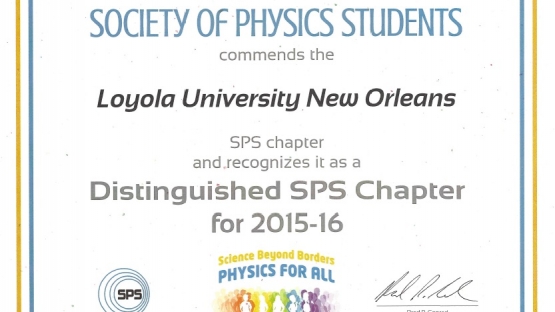 The Physics department is excited to announce that the Loyola Student Physics Society Chapter has been recognized as "Distinguished" for the 3rd consecutive year. Students at the physics department at Loyola are among the most active on campus in terms of their involvement with research, commitment and participation in various outreach programs mainly aimed at energizing school kids towards science. They also participate in on-campus events such as the President's open house and the Monroe Rededication Ceremony.
---
See all Successes