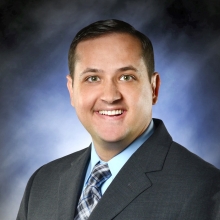 Tim Fanguy is the founder and President of Adrenaline Broadcasting LLC, a full service video production and marketing firm. With 20 years of professional experience in sports and entertainment, Tim has been a part of major events across the world. The Super Bowl, NBA All-Star weekend, NCAA Men's Basketball Championships, and the NCAA Football National Championship are just some of the major sporting events that Fanguy has been a part of the production team over his career. As a Producer/Director of over 1000 live sporting events over the past 20 years, Fanguy has worked with Sports teams in the National Football League, National Basketball Association, Major League Baseball, Minor League Baseball, NCAA Athletics, and The Chinese Basketball Association.
Fanguy's passion for sports production led him to one of his most unique career opportunities. Fanguy spent several weeks in China working with The Chinese Basketball Association teaching and developing the local broadcast teams. Fanguy consulted with each production team and he directed live broadcasts in six different markets around the country, culminating in the premier match-up of the CBA regular season, which had over 98 million viewers.
Before devoting his work fulltime to Adrenaline Broadcasting, Tim served as Director of Video Production for the New Orleans Pelicans and was an integral part of the team's marketing and entertainment initiatives. This included rebranding the team from "New Orleans Hornets" to "New Orleans Pelicans."
Tim is a graduate of Loyola University New Orleans with a Major in Broadcast Journalism and Minor in History. In his spare time, Tim loves to travel the world with his new wife and enjoys spending time with his two rescue dogs Annie and Millie. Tim also enjoys scuba diving and fishing.
Degrees
B.A., Mass Communication, Loyola University New Orleans
Classes Taught
Sports Communication
Areas of Expertise
Sports Communication 
Sports Marketing 
Sports Public Relations
Sports Broadcasting