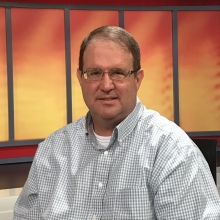 Albert Dupont is a South Louisiana native and has spent nearly 30 years in broadcast journalism and broadcast education.
Prior to joining Loyola's Mass Communication Department he was the Advanced TV Broadcasting Teacher at the Satellite Center in St. Charles Parish since it's opening in August of 2005. 
Before becoming a teacher, he was a news and sports videographer for WVUE-TV in New Orleans for twelve years and a news producer at WAFB in Baton Rouge and KATC in Lafayette for five years.  While in sports, Dupont was a field videographer for the New Orleans Saints and NCAA games from 1994 to 2009.  He also was a videographer at two Superbowls and numerous NCAA national championship games in a variety of sports.  He operated the WVUE satellite truck at breaking news events, sporting events and hurricanes.
Albert Dupont is currently an Adobe Certified Associate in Premiere Pro and Photoshop and an Avid Certified Instructor in Media Composer since 2008.  The Satellite Center was one of the few high school programs in the US to train students as Avid Certified Users.  He was also the co-founder of the Satellite Center Video and Animation Festival, which started as a way to showcase the work of the Satellite Center's Team Members and over ten years grew to a Festival for students from many high schools in South Louisiana.
Dupont currently works freelance for the New Orleans Pelicans as a replay operator, video engineer and camera operator.  He has also worked freelance for Cox Sports, Essence Festival, Sugar Bowl, ESPN, CNN, Fox Sports and Fox News.
He is the Louisiana State Director for the Journalism Education Association and is a contributor to the JEA Digital Media website.
Dupont is married to Kimberly McCoy Dupont.  They have two daughters, Sarah and Amy.  In his spare time is an amateur radio (ham radio) operator with his favorite activity operating vintage tube radios from the WWII era through the 1970's.
Degrees
B.A. Mass Communication
Areas of Expertise
Avid
Videography
Editing
Journalism