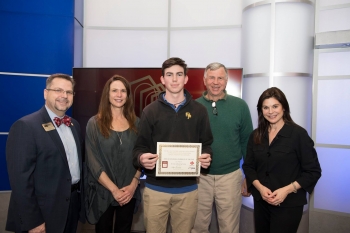 80 high school students networked and learned from leading journalism educators at Louisiana Journalism Education Association's annual conference and the annual Tom Bell Silver Scribe Contest hosted by the Loyola School of Mass Communication in February 2018.
Attending the conference on Thursday, Feb 1 2018, students learned from leading journalists — and heard the results of a recent JEA writing competition, in which Luc Herbet from St.Paul's School was announced as the top journalism student in the state, winning a full tuition scholarship to Loyola.
The Journalism Education Association supports free and responsible scholastic journalism by providing resources and educational opportunities, by promoting professionalism, by encouraging and rewarding student excellence and teacher achievement, and by fostering an atmosphere which encompasses diversity yet builds unity.
"The conference was designed as an opportunity for high school students to build professional skills and begin envisioning a possible future in journalism and communications," said Albert Dupont, Louisiana JEA president and instructor in the Loyola School of Mass Communication. "This year, we were thrilled to announce Luc Herbet as the winner of the JEA Louisiana State Journalist of the Year contest. He will receive a full-tuition scholarship to Loyola."
As Journalist of the Year, Luc Herbet will also represent the State of Louisiana at the JEA National Convention in San Francisco in April, Dupont said.
The conference lasted one day and featured guest speakers and workshops with numerous communication professionals including: Doug Mouton from WWL Sports Director and NO Press Club President, Kel Lemmons of Balfour Yearbooks, Darrin Post from WVUE-TV, Aaron S. Lee, an international sports journalist and NO Press Club member, Melanie Spencer of Renaissance Publishing, R.J. Morgan, University of Mississippi Journalism Professor and Director of the Scholastic Press Association and Bridget Sherrill from Herff Jones Yearbooks.
Students who attended enjoyed a tour of the fantastic facilities at the SMC, including the university's future J. Michael Early Studio, Shawn M. Donnelley Center for Nonprofit Communications, "Brand Lab," and new Digital Communications Hub.
"The School of Mass Communication at Loyola University New Orleans is happy to serve these young journalists as they begin their careers and plan their paths to college," said Sonya Duhé, director.
"Leading area journalists were on hand to help advise students on issues from newscast directing and sports journalism to college searches to crisis communications, emerging trends, and social media storytelling."
The Spring 2018 Louisiana JEA Conference was co-sponsored by the Loyola University New Orleans School of Mass Communication, Louisiana Journalism Education Association, and the Press Club of New Orleans.