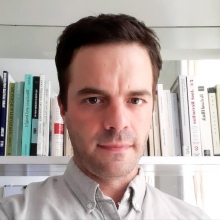 Dr. Zachary Campbell's research explores the intersection of modern Latin American literature and history, with a special focus on the fin de siglo and the Mexican Revolution. His book project, "Bendita Sea la Discordia: Aesthetics of Rupture in the Writing of Práxedis Guerrero and Ricardo Flores Magón," explores how the short writings of these two Mexican anarchists (aphorisms, crónicas, eulogies, fables, manifestos, maxims, etc.) deployed the principle of collage to craft an aesthetics of rupture that contested Porfirio Díaz's dictatorial rule; their approach to writing also finds echoes in the social media "short forms" that often play an important role in the revolts of the present.
His current research project examines ideas about and practices of "community" in the US and Mexican workers' movements at the turn of the 20th century. At Loyola, he teaches Spanish language and Latin American literature and culture courses, and strives to introduce students to the realities of the Spanish-speaking world in meaningful and relevant ways.
Recent Publications
Liaisons (collective author). Translation and Editorial Work. "Paris/Maidan," "Encore," "The Evil to Come," "Chaos Orders Us: A Letter from Paris," "Thunderous Graveyard Affirmations," "Warning," "The Revolution Post-Explosion," "Shaheen Bagh," "Lockdown," "Radiation, Pandemic, Insurrection," "In the Wake of an Erosion." Lines of Revolt blog. The New Inquiry. 2018-Present. Available at https://thenewinquiry.com/blogs/letters-and-other-writing-from-the-front-lines-of-planetary-struggle/.
"Blessed Be Discord, 1910: Ricardo Flores Magón's Manifesto Mode," Bulletin of Latin American Research. September 2020.
Degrees
Ph.D., Rutgers University; M.A., Rutgers University; B.A., Calvin College
Classes Taught
Writing and Revolution in Latin America
From Monterrey to New Orleans: Regional Folk Beyond Borders
Intermediate Spanish
First Year Spanish