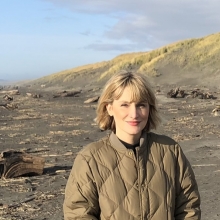 Vera Felder is a scholar in Germanic linguistics. She received her B.A. and M.A. in Linguistics from San Francisco State University and her Ph.D from the German department at the University of California, Berkeley, where she has taught German language courses since 2015. Her dissertation focuses on conceptual metaphors in right-wing populist discourse in Germany.
She has extensive experience teaching students from the elementary levels to the intermediate and advanced levels and German reading and translation courses. In addition, she has taught reading and composition classes in English in which she focuses on gender and identity in female authors' short stories of the fantastic and their connection to psychoanalysis.
Her research mainly revolves around cognitive-linguistic and socio-linguistic topics, often with an emphasis on second-language acquisition. She is especially interested in how cognitive-linguistics insights can be applied to teaching languages.
In her free time, she is interested in the Weimar Republic era, especially regarding the experience of the 'New Woman' in literary texts and film. 
At Loyola University New Orleans, she teaches German language courses.
Recent Publications
"BAG XIV Forensic Phonology: English". Co-author with Irmengard Rauch, Alex Estes, Michael Fragomeni, Sarah Harris, Zainab Hossainzadeh, Flor Marshall, Adam Nunes, Lindsay Preseau, Evelyn Roth, Scott Shell. Interdisciplinary Journal for Germanic Linguistics and Semiotic Analysis 23, 1 (2019) 113-139.
Degrees
Ph.D., University of California, Berkeley; M.A. and B.A., San Francisco State University
Classes Taught
Elementary German I and II
Intermediate German I and II
Advanced German Conversation and Composition
Reading and Translation: German
Reading and Composition (English)
Areas of Expertise
Germanic Linguistics, Cognitive Linguistics, Sociolinguistics, Discourse Analysis, Second-Language Acquisition