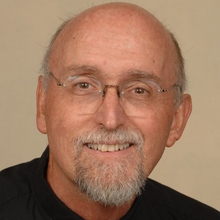 Fr. Peter Rogers, S.J., Ph.D., is the rector of the Loyola Jesuit Community and professor of French at Loyola University New Orleans. He is a native of Jeanerette, Louisiana, and has been a member of the Loyola Jesuit community and Loyola faculty since 1982. A leave from the university allowed him to teach at Texas A&M and Wake Forest University. He earned his bachelor of arts degree in French from Spring Hill College in Mobile, Alabama, and his master of arts degree from Middlebury College in Vermont. He also holds a masters in theology from the Centre Sèvres in Paris. He earned doctorates in French literature from the University of Paris and Columbia University.
He is the author of Proust: Speculative Scripture (Studies in 20th Century Literature, 1993).  In the winter of 2009, Fr. Rogers published an essay on Flaubert in L'Esprit Créateur.  Then appeared his full-length study, The Mystery Play in Madame Bovary: moeurs de province. According to Éric Le Calvez, Georgia State University, this "new reading of the novel... has revealed an extensive network of religious signs embedded in the text; his study therefore remains refreshing and interesting." (Nineteenth-Century French Studies 39, Nos. 3 & 4 Spring-Summer 2011). 
For Marquette University Press, Fr. Rogers has translated a study of Paul Beauchamps "Fifty Biblical Portraits" (2011), with illustrations by Pierre Grassignoux.
Degrees
Ph.D., Columbia University, 1982; M.A. (Theology), Centre Sevres Paris, 1974; M.A., Middlebury College, 1973; l'Université d'Aix-Marseilles, Aix-en-Provence, France, 1970; B.A., Spring Hill College, 1968
Classes Taught
First Year French I
19th Century Prose
20th Century Novels
French Poetry and Theatre
Advanced Conversation and Phonetics