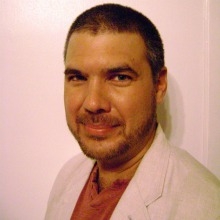 Before arriving in the United States, Leopoldo Tablante taught for seven years at Andrés Bello Catholic University, in Caracas, Venezuela. His specialties include Caribbean Cultural Studies, Theories of Image, and Media Studies in Latin America. He is the author of the essay Los sabores de la salsa (2005, Caracas: Museo Jacobo Borges), an analysis of salsa music as a cultural symbol for Puerto Ricans in New York City and Latinos in the US and abroad. His research has also centered on the globalization of salsa music between 1971 and 2001.
In 2011, Dr. Tablante received ABCU's Research Award for his work exploring social representations and poverty in Venezuelan press.
He is also a published fiction writer. His titles include the collection of short stories Mujeres de armas temer (2005, Caracas: Comala.com), and the novels Groovy (2007, Caracas: Random House Mondadori) and Hijos de su casa (in print, Caracas: Monte Ávila Editores Latinoamericana). As a journalist, he currently has a bimonthly column published in the Venezuelan newspaper El Nacional.
 
Degrees
Ph.D., Université Paris 13, 2001; M.A., Université Paris 13, 1997; B.A., Andrés Bello Catholic University, 1993
Classes Taught
Spanish 100 and 101
Salsa: Latino Diaspora, Music Industry, and Culture
Deconstructing Latinos/as: A Media Approach
Images and People of Latin America in American Films