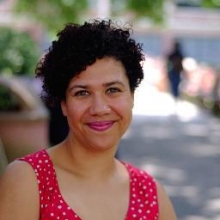 Ashley Howard received her Ph.D. in history from the University of Illinois. Her research interests include African Americans in the Midwest; the intersection between race, class, and gender; and the global history of racial violence. Her manuscript Prairie Fires: Class, Gender, and Regional Intersections in the 1960s Urban Rebellions analyzes the 1960s urban rebellions in the Midwest, grounded in the way race, class, gender, and region played critical and overlapping roles in defining resistance to racialized oppression.
Dr. Howard's work has appeared in Nebraska History, The Black Scholar, NoJargon podcast, and The Chronicle of Higher Education.
As an educator, Dr. Howard's primary goal is to teach students to be effective writers, critical thinkers, and active world citizens. She is also dedicated to sharing her scholarly knowledge outside of the traditional campus community. Specifically, Howard has greatly valued teaching opportunities where she can provide quality, university-level education to those with limited access, including underserved schools and correctional facilities.
Recent Publications
"Then the Burnings Began: Omaha's 1966 Revolt and the Efficacy of Political Violence" Nebraska History 98:2 (Summer 2017): 82-97.
Classes Taught
African American Culture and History
Global History I
Global History II
African American Women's History
Black Leadership in the U.S.
African American History to 1865
African American History from 1865
Comparative Social Movements
Violence in Black America