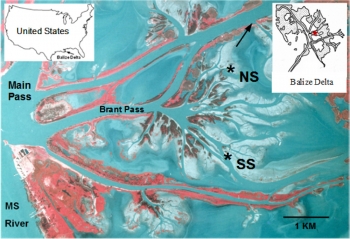 Dr. David A. White and Dr. Jenneke M. Visser published an article "Water quality change in the Mississippi River, including a warming river, explains decades of wetland plant biomass change within its Balize delta." Aquatic Botany 132 (2016) 5-11.
 
Highlights
•Wetlands in the Mississippi River's Balize Delta, USA showed an overall plant biomass increase with a large inter-annual change from 1988–2008.
•River discharge and sediment negatively impacted the biomass over these decades, whereas river temperature had a positive impact.
•The decadal plant biomass likely increased because of the impact of a 0.9 °C/decade increase in river temperature on growing season length.
•The added river temperature increased the growing season 0.7 days each year from 1983–2012, or 14.7 days over the shorter biomass study period.
•Climate change and land use/cover change in the catchment are likely responsible for the river and wetland biomass change in the Balize Delta.
Abstract
Ecosystem properties of riverine wetlands are known for high inter-annual variability. This multi-decadal study within the wetland complex of the Mississippi River's Balize Delta, USA assesses how river parameters (temperature, discharge, and sediment load) impact wetland plant biomass over time and space. The Mississippi River's annual temperature has increased 0.9 °C/decade, while discharge and sediment load has varied without trend over the same period. End-of-season herbaceous biomass increased 14 g/m2/year between 1988 and 2008, extrapolating to large (m-ton) area-wide increases. The river's temperature, discharge and sediment impacted the Delta's biomass in two ways: the increase in temperature had a positive impact on the growing season length which increased biomass; whereas discharge and load had negative impacts affecting the inter-annual variation without a temporal trend. The results explain natural variability in ecosystem processes in a dynamic deltaic system and likely trace a signal related to both climate warming and land use change within the drainage of the Mississippi River. The discovered decadal increase in herbaceous biomass has implications on carbon storage in the inshore and offshore receiving basins of the world's riverine wetlands experiencing longer growing seasons.