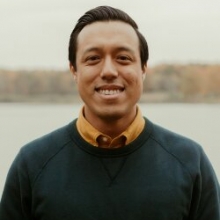 Leland Tabares is a Visiting Assistant Professor of English. His work centers on literature, labor, and racialization in twentieth- and twenty-first-century American culture. His book project, Professionalizing Asian America: Race and Labor in the Twenty-First Century, traces the ways that Asian Americans' increasing representation in a diverse range of contemporary industry professions—from the university and the modern restaurant industry to the Silicon Valley tech industry and digital media platforms like YouTube—enculturates new meanings of race, generationality, and belonging. His research and teaching span American Studies, Asian American Studies, cultural studies, critical race and ethnic studies, genre studies, media studies, food studies, environmental humanities, and theories of labor and popular culture. His work is published in Profession, Journal of Asian American Studies, Arizona Quarterly, Lateral: Journal of the Cultural Studies Association, Hyphen, and The Recipes Project.
Professor Tabares has also made contributions to his field through his editorial and service work. He was the Managing Editor for Verge: Studies in Global Asias, an award-winning journal in Asian and Asian American Studies published by the University of Minnesota Press. Verge won the 2020 PROSE Award from the Association of American Publishers and the 2016 award for Best New Journal from the Council of Editors of Learned Journals. He served on the Executive Board for the Association for Asian American Studies, co-leading the mentorship and membership committees and coordinating professional development workshops for junior faculty. Currently, he serves on the Advisory Board for the Circle for Asian American Literary Studies.
Recent Publications
"Danny Bowien's Post-Authentic Asian America." The Recipes Project (November 2021).
"Misfit Professionals: Asian American Chefs and Restaurateurs in the Twenty-First Century." Arizona Quarterly 77.2 (Summer 2021): 103-132.
"Gish Jen's Resistant Possibilities: On Black Fugitivity, Coalitional Care, and Baseball." Hyphen (October 2020).
"Professional Amateurs: Asian American Content Creators in YouTube's Digital Economy." Journal of Asian American Studies 22.3 (October 2019): 387-417.
"Professionalization and the Precarious State of Academic Freedom for Graduate Student Instructors." Profession (Winter 2019).
Degrees
Ph.D., Pennsylvania State University; M.A., Pennsylvania State University; B.A., University of North Carolina at Chapel Hill
Classes Taught
American Frontiers: From the Wild West to the Apocalypse
Literature & Labor: The Business of American Life
Asian American New Orleans
Comics as Literature
Race, Media, Representation
Studies in Asian America: Race, Resistance, and Solidarity
Areas of Expertise
American Studies, Asian American Studies, Critical Ethnic Studies, Cultural Studies, Media Studies, Food Studies, Critical University Studies, Labor Studies, Popular Culture