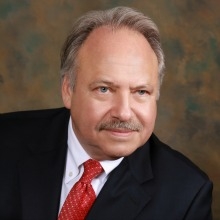 Professor Timothy J. McElroy taught his first semester at Loyola University New Orleans in spring 2009.  Professor McElroy received his undergraduate degree in Business and Public Administration from Louisiana State University (LSU) - Baton Rouge in 1974.  The Business and Public Administration curriculum had just been instituted by the university and the courses were specially designed for students who indicated a strong desire to incorporate business in a political setting.  The most prominent example of this discipline at the time was the position of City Manager, whose role as the Chief Administrative Officer, was to conduct the city's business for the elected leadership in cities and urban communities.  The curriculum emphasized significant hours of study in both business and political science.
Professor McElroy entered law school at LSU in 1974 believing that a law degree would enhance his knowledge of how best to run a city. After graduating from LSU School of Law in 1977, his hometown District Attorney asked him to join his office in Houma, La.  Professor McElroy has been a prosecutor for more than 27 years and has served in three jurisdictions: Terrebonne Parish, Orleans Parish, and presently Jefferson Parish. To date, his longest service has been in New Orleans where he has served as a supervising attorney for 15 years and concluded his service in that office as First Assistant District Attorney to then-District Attorney Harry Connick.
Professor McElroy joined the Office of District Attorney for Jefferson Parish in 2003 and now serves District Attorney Paul Connick, Jr. as the Chief of the Felony Trials Division, supervising prosecutors in all 16 divisions of court within Jefferson Parish.  During his tenure as a prosecutor, Professor McElroy has taught Trial Advocacy courses to law students enrolled at Tulane Law School and LSU Law School, as well to law practitioners enrolled in the National Institute of Trial Advocacy (NITA) Programs conducted at Loyola University New Orleans College of Law.  Additionally, he has instructed police recruits at municipal and departmental training academies for the New Orleans Police Department, the Louisiana State Police and for the Jefferson Parish Sheriff's Office.  Professor McElroy takes his responsibilities as a supervising prosecutor very seriously and takes every advantage to bring this enthusiasm and dedication to the students of Loyola University as a professor for the Department of Criminal Justice.
Degrees
J.D., Louisiana State University, 1977; B.A., Louisiana State University, 1974
Classes Taught
Seminar in Constitutional Law