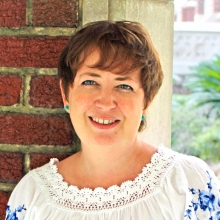 Dr. Underwood is an atmospheric physical chemist with research interests in two main areas: (i) water uptake processes and chemical reactions of atmospherically relevant aerosol; and (ii)  development of analytical techniques for studying the physical and chemical properties of atmospheric aerosol. 
Aerosol are small particles suspended in air. They can have diameters ranging from a few nanometers to several microns. Because of their size, they can serve as unique reaction vessels for chemistry in the atmosphere. Ongoing experiments probe the uptake of water on particles smaller then 100 nanometers and the role of adsorbed water on the particles' chemical and physical properties. 
Dr. Underwood's work has been published in journals such as Journal of Physical Chemistry, Atmospheric Chemistry and Physics, Journal of Chemical Physics, and Chemical Physics Letters.  
Degrees
Ph.D., University of Southern California, 2005; B.A., Newcomb College, Tulane University 1995
Classes Taught
General Chemistry
Physical Chemistry
Integrated Lab
Instrumental Analysis
Math and the Natural World
Chemistry Prep
Foundations in Environmental Studies and Sciences
Areas of Expertise
Analytical Chemistry, Physical Chemistry, Atmospheric Chemistry